Welcome to Reese's MaGIC Fund 2018 Donation Page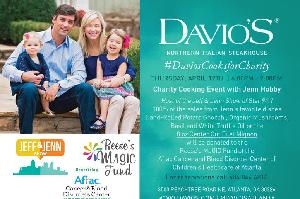 Check out out upcoming events benefiting Reese's MaGIC Fund! We hope to see you there!
Thursday, April 19th - Davio's Cooks for Charity - Please make a reservation by calling 404-844-4810
Join Jenn Hobby, Jeff Dauler and the Jeff & Jenn Show team at Davio's Northern Italian Steakhouse at Phipps Plaza on Thursday, April 19th! 100% of the proceeds from Jenn's favorite dishes: the 8 oz. Center Cut Filet Mignon the the Hand-Rolled Potato Gnocchi with organic mushrooms, basil and white truffle oil AND any children's menu dish order will go to Reese's MaGIC Fund at the Aflac Cancer and Blood Disorders Center at Children's Healthcare of Atlanta!
All valet services for Davio's and Phipps Plaza will be donated to Reese's MaGIC Fund.
Special thanks to AmeriPark for this opportunity!
Saturday, May 5th - Woofstock - "Atlanta's Largest Pet Party In The Park" is fun for the whole family!
Saturday 11a.m. - 7p.m. Sunday 11a.m. - 6p.m.
Suwanee Town Center Park
Learn more at http://woofstockatl.com/
Saturday, June 16th - Brunch all Night
Saturday, September 15th - Kendra Scott Gives Back at all THREE Atlanta locations!
Saturady, October 27th - Reese's MaGIC Show - More details coming soon!
Interested in fundraising or donating to Reese's MaGIC Fund? Contact Alex.Prather@choa.org
Check out our fundraising in 2017 here: http://choa.convio.net/goto/reese
View More